From September 8-10, 2023, BOA marked a significant presence at the 4th World Congress of Optometry held in Melbourne, Australia. Our delegation was led by Optom Thanuja Panicker, Chairperson of BOA, along with our esteemed colleagues Optom Nazar Kumar (BOA Treasurer), Optom Seabelo Maje (Education Sub Committee Head), and Optom Prudence Nthwana (BOA Member).
Background
🤝 A Collaborative Milestone
This year's World Congress of Optometry was a monumental achievement, executed in partnership with Optometry Victoria South Australia (OV/SA) and ODMA. The event, also known as the O=MEGA23 conference, saw an impressive attendance of 3,585 participants from around the world during its 3-day run.
🔬 Clinical Conference & Trade Fair
The Clinical Conference Program was an enriching experience, offering a variety of keynote presentations, full lectures, short paper presentations, and poster sessions. Many of these insightful presentations were contributed by clinicians who are members of WCO countries, thereby making it a truly global event. Complementing the academic and clinical discourse, the Trade Fair featured more than 100 exhibitors, providing a holistic experience for all attendees.
🌐 Global Impact
The 4th World Congress served as an incredible catalyst for elevating the standards of Optometry worldwide. It was an awe-inspiring gathering of innovative minds, all focused on pushing the boundaries of the profession. The cumulative effect promises to uplift the quality of optometry for the benefit of patients globally.
🌟 Event Highlights & Key Takeaways 🌟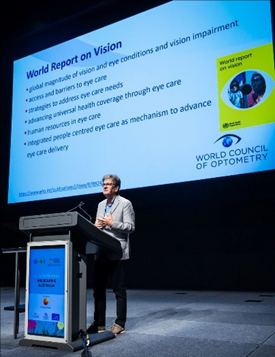 🎙 Prof. Peter Hendicott's Inaugural Address
Prof. Peter Hendicott opened the congress with a compelling discussion on the "WHO World Report on Vision and its Impact on Optometry." This seminal report outlines the future role of optometry in addressing vision care gaps globally, and we as BOA are committed to aligning our strategies with these international standards.
---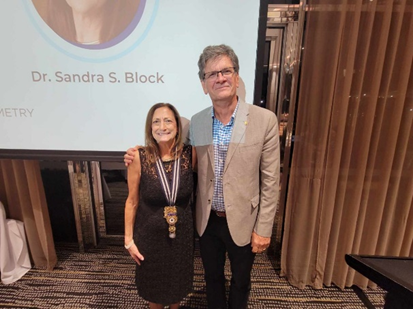 🔄 WCO Leadership Change
Dr. Sandra S. Block was welcomed as the new WCO President for 2023-2025, marking a significant moment in optometry leadership.
---
🌹 Karen Sparrow Memorial Lecture
Optom Karen Sparrow's life and work were honored during this touching memorial lecture.
Ms. Sparrow, a longtime WCO volunteer, shared her spirit, passion, and dedication to public health Optometry in a way that epitomizes the mission of WCO. Her sister Tessa Briggs (pictured right, alongside Dr. Sandra Block) was in attendance for the lecture.
Optom Karen Sparrow is fondly remembered by the members of Botswana Optometrists Association also for her contribution as an advisory for the PEEK Botswana 2016 Project. Optom Thanuja Panicker had collaborated with her on the PEEK Botswana 2016 Project and reminisced about Optom Sparrow's invaluable contributions to public health optometry in Botswana.
Optom Thanuja Panicker,the current Chairperson of BOA had closely worked as the PEEK Refractive Services Co-ordinator with Optom Karen Sparrow for the PEEK (Portable Eye Examination Kit )2016 Botswana project. Optom Karen Sparrow also was the International Speaker for the first BOA Wenar in 2016.
---
🌐 4th WCO President's Forum
Hosted by Prof. Peter Hendicott and Dr. Sandra S. Block, this invitation-only forum explored the theme "Optometry's Role in Global Health Care." Optom Thanuja Panicker was among the select invitees, contributing to crucial discussions on how optometry can become more accessible and equitable.
---